Local Onion Harvest
Beginning in August of each year, the local agricultural scene focuses upon the harvest of white, red, yellow, and sweet onions. Thousands of workers with temporary work visas enter the local work force for about ten weeks to clip and bag thousands of acres of onions. Once field dried, the onions are transported to local storage sheds for curing and packing. The onions produced in Mason Valley are sold in many US cities and are exported to other countries as far away as Australia.

____________________________________________________________________________________



Pogonip – Shoshone word for
"White Death"
In the American Meteorological Journal of 1888, pogonip is described as follows:
The Pogonip: – A curious phenomenon is often witnessed in the mountainous districts of Nevada. Mountaineers call it "pogonip," and describe it as being a sort of frozen fog that appears sometimes in winter, even on the clearest and brightest of days. In an instant the air is filled with floating needles of ice. To breathe the pogonip is death to the lungs. When it comes, people rush to cover. The indians dread it as much as the whites. It appears to be caused by the sudden freezing in the air of the moisture which collects about the summits of the high peaks.
The presence of pogonip transforms the area into a winter photographic wonderland. Usually it is accompanied by an eerie silence because of the high humidity in the air. If you are a photographer, this is an extremely unique and beautiful phenomenon to capture on "film."
This photo is of the old Snyder Lane bridge along the Walker River.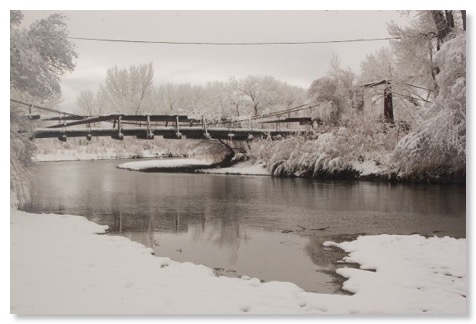 ____________________________________________________________________________________
Geocaching
One person described geocaching as "littering on purpose, but so others can find it." This modern treasure hunting game has become popular since 2000 when the "selective availability" of consumer GPS receivers changed, enabling them to be much more accurate. Containers containing paper logs are hidden all over the world. Larger containers also contain trinkets or "swag." The coordinates of the cache are posted online so that others geocachers can locate the cache and sign the log.
The Yerington area is fortunate to be the home of the world's top geocache placer. "Team Sagebrushers" has place over 22,000 geocaches in the area, making Yerington a favorite geocache destination for cachers of all levels from around the world.